Vanilla Bean Pound Cake with Rum Caramel Sauce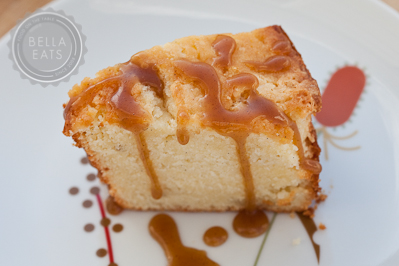 "[This pound cake] is rich and dense, heavy with vanilla flavor and soaked with rum, and will warm you from inside out. It is the perfect cake to whip up as snow falls outside your window, and lovely to share the next day with friends who walk a mile through two feet of fluff to visit with you."
-AndreaRecipe adapted from Paula Deen and Bon Appetit courtesy of Bella Eats
Photo copyrighted by Andrea Hubbell Photography
Ingredients

---
Cake ingredients:
1/2 pound (2 sticks) unsalted butter, plus more for pan, room temperature
1/2 cup vegetable shortening
2-1/2 cups sugar
5 large eggs
3 cups all-purpose flour, plus more for pan
1/2 tsp fine salt
1/2 tsp baking powder
1 cup milk
1 tsp vanilla extract
1 vanilla bean
Rum Caramel Sauce ingredients:
1 cup dark brown sugar
1 stick unsalted butter
1/2 cup heavy cream
2 tbsp spiced or dark rum **Relay note: sorry, folks, we don't sell rum--hope you have some at home!
Instructions

---
For the cake:
Preheat oven to 350*. Butter and flour a tube cake pan, knocking excess flour from pan.
With an electric mixer, cream together the butter and shortening. Add the sugar a little at a time, and blend well. Add eggs one at a time, blending after each addition.
Sift together the flour, salt and baking powder in a separate bowl. Add to the butter mixture in 3 batches, alternating with the milk, starting with the flour and ending with flour. Mix in the vanilla and the scraped-out insides of the vanilla bean.
Pour into your buttered and floured baking pan and smooth the top of the batter. Bake for 60-75 minutes, until the top is starting to turn golden and a toothpick inserted into the center of the cake comes out clean. Cool on rack completely before removing from pan.
For the rum caramel sauce:
In a small, heavy-bottomed saucepan, melt your butter. Stir in sugar until smooth, about 2 minutes. Add cream and rum and bring to a simmer, cooking until sauce thickens and is reduced to about 1-1/2 cups, about 5 minutes.
Drizzle rum sauce over individual slices of cake.

Sauce can be prepared up to 2 days ahead. Refrigerate, and reheat on stovetop when ready to serve.
Shopping List

---
Save this item to a list for a future reference
Domino
Dark Brown Sugar, 1 lb
$1.79
$1.79 per lb
Review Item
Pantry Items

---
Save this item to a list for a future reference
Trickling Springs Creamery
Organic Heavy Cream, 1 pt
$3.99
$3.99 per pt
Review Item
Save this item to a list for a future reference
Land O Lakes
Unsalted Sweet Cream Butter, 4 Sticks, 1 lb
$4.49
$4.49 per lb
Review Item
Save this item to a list for a future reference
King Arthur Flour
Unbleached All-Purpose Flour, 5 lb
$5.99
$1.20 per lb
Review Item
Save this item to a list for a future reference
Domino
Premium Pure Cane Granulated Sugar, 4 lb
$3.99
$1.00 per lb
Review Item
Save this item to a list for a future reference
Simply Organic
Pure Vanilla Extract, 2 oz
$4.99
$2.50 per oz
Review Item
Save this item to a list for a future reference
Clabber Girl
Double Acting Baking Powder, 8.1 oz
$2.29
$0.28 per oz
Review Item
Save this item to a list for a future reference
Morton
Iodized Salt, 26 oz
$1.29
$0.05 per oz
Review Item
Save this item to a list for a future reference
The Spice Diva
Madagascar Bourbon Vanilla Bean, 1 oz
$2.00
$2.00 per oz
Review Item
Save this item to a list for a future reference
Timbercreek Organics
Local Free Range Pastured Eggs, 12 egg
$5.99
$0.50 per egg
Review Item